LARRY TEE Talks About His Early Days with RuPaul
April 2, 2018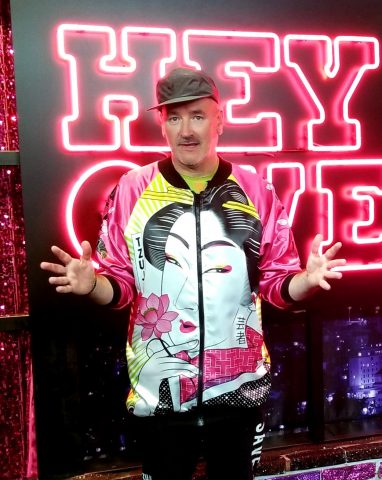 By Matt Valdez
This week on Hey Qween! we're all getting a HERstory lesson! The man who made RuPaul a star, Larry Tee is here to spill about about his legendary music career and his friendship with Mama Ru.
Being close fiends since their time in Atlanta, Georgia, Ru and Larry decided they were going to take New York by storm together back in the early 90s.
So one day they packed their bags and took a van all the way up to the Big Apple with their drag pal Lahoma, but the journey wasn't without a few bumps.
WATCH: Larry Tee on Hey Qween! – Part 2
"On our way to New York, we were going over the Tennessee border and we had just done a little bit of coke," Larry reveals. "And as soon as we did the coke a tire blew on our van and the van flipped on the interstate!"
He adds, "The backdoor flew open and everything flew out onto the interstate. We were grabbing disco balls and wigs and a collection of photos that Lahoma had that were this close to being run over by a truck!"
Once they finally made it to the big city, they found that the community was in desperate need of some fun and positivity.
WATCH: Larry Tee on Hey Qween! – Part 3
"At the time, AIDS had just annihilated the community so when we got to New York, everyone was in mourning and wearing black. So when we got up there everyone was happy to see us. We didn't know that in just six months we'd be running the scene!"
As for the hit track that mad RuPaul a star, Larry reveals that his track "Supermodel (You better work)" was inspired by the New York streets they lived above.
"I was living with Ru in the Meat Packing District and there were a lot of 'working girls,' a lot of transgender working girls, but also models and celebrities at the time," Larry remembers. "You'd always hear people saying, 'You betta work, bitch!' as these women would walk down the street and that's kind of how it all came to be."
For more of Larry, be sure to watch parts 1, 2 and 3 of her interview!
Watch part 1 of Larry Tee's interview below…
FOLLOW THE WRITER
Instagram & Twitter: @TheMattValdez
FOLLOW HEY QWEEN!
Instagram, Facebook and Twitter: @HeyQweenTV